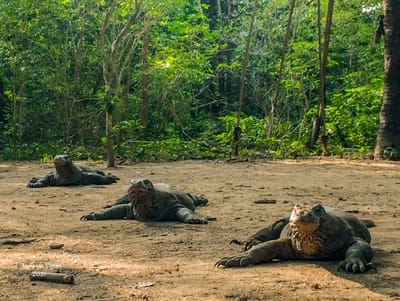 What to expect:
A relaxing full day, enjoying on the boat and especially great diving that Komodo National park offers. We meet up at 07.00am as we have a commuting time to the park of 1,5 to 2 hours. While we start sailing everyone will gather for the boat briefing, while enjoying coffee /tea & small breakfast. Relaxing time has started and time to enjoy the beautiful scenery on the way. Your gear will be prepared and before arriving everyone will gather again for the dive site briefing. We plan 2 dives in the morning with surface interval time and refreshments. After the 2nd dive it's time for our freshly cooked lunch, followed with a longer surface interval time to let the meal settle before the short Dragon tour at Rinca Island. The short trekking takes about 1 hour, afterwards we will sail back to Labuan Bajo with an expected arrival time between 17.00-18.00pm.
Price: Rp. 2.500.000
Included: Equipment, Divemaster (max. 4 divers per group), Small breakfast, Freshly cooked lunch, Fruits, Water & coffee & tea free flow, snacks and cookies.
Excluded: Komodo National Park entrance fees, tip for crew, softdrinks & beer, COVID-19 requirements.
Note: Refresher is manadatory if no diving for 1 year.