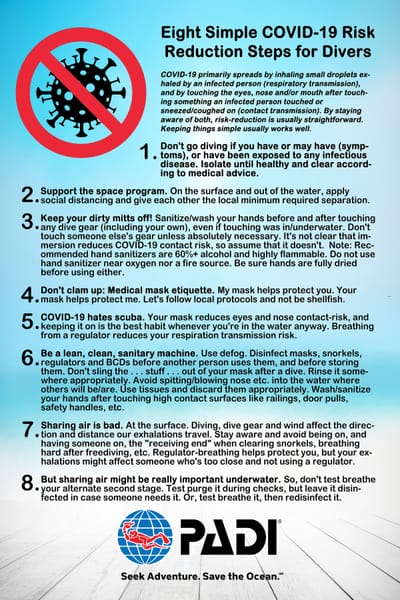 COVID-19 Protocol
We ask all visitors to understand that although we have taken appropriate steps to reduce the risk of Covid-19 virus spread; it is not possible to guarantee a completely risk free environment.
If experiencing any symptoms related to Covid-19 such as fever, cough or respiratory issues; please do not enter our office. If symptoms start during the trip please inform our staff immediately and stop any activities.
The number of people entering the office will be limited to adhere to social distancing rules.
Wash hands frequently for minimum 20 seconds with soap and water, or use hand sanitizer (especially important when: before & after eating, after using toilet and after touching any surfaces that others may have touched.
Each guest will be given a dedicated set of equipment for the length of their stay.
At the end of the day, the equipment will be thoroughly rinsed and disinfected.
Do not touch other guests dive equipment or belongings.
On the boat, a bottle of soap will be available to use as defog for the mask.
Guests are encouraged to bring their own water bottle on the boat.
A Divemaster/Instructor will be allocated to a group for the length of their stay. Groups will be kept small and private.
During courses, PADI recommendations regarding skills demonstrations will be followed.
The number of guests on the boat will be reduced to maintain social distancing rules.
Current protocol for operating & clearance procedure are to be followed up; guests will have to provide a copy of their antigen swab test & a copy of their passport / ktp.
Protocol might change and we will do our best to inform our guests ahead.
Keep clean, stay healthy & safe!