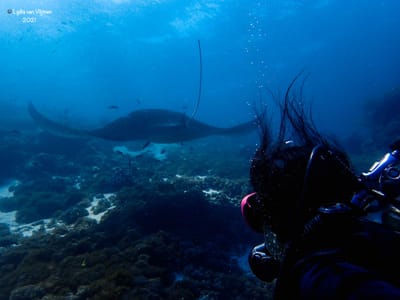 What to expect:
An exiting day, enjoying on the boat and especially great diving that Komodo National park offers. We meet up at 07.00am as we have a commuting time to the park of 1,5 to 2 hours. While we start sailing everyone will gather for the boat briefing, while enjoying coffee /tea & small breakfast. Then it's time to give you a
full explaination
to prepare you for the confined skill sessions and your first breaths under water. Your gear will be prepared and explained, so you know and feel confident to use it. We start with the
confined session
(~in 5 meter) before we will continue for the
open water discovery dives
(max 10 meter). Between the dives we will have surface interval time and refreshments. After the 2nd dive it's time for our freshly cooked lunch, followed with a longer surface interval time to let the meal settle. If the dive site permits and you want to explore more, there is an option for a
3rd dive session
(max 10 meter). Otherwise you can enjoy snorkeling or chilling out on the boat. After finishing we will sail back to Labuan Bajo with an expected arrival time between 16.30-17.30pm.
Price: IDR 3.000.000/ 3 DSD dives
Included: Equipment, Instructor (max. 2-4 divers per group if more than 2pax with extra assistance), Small breakfast, Freshly cooked lunch & Fruits, Water, coffee, tea & cookies.
Excluded: Komodo National Park entrance fees, tip for crew, softdrinks & beer, COVID-19 requirements.